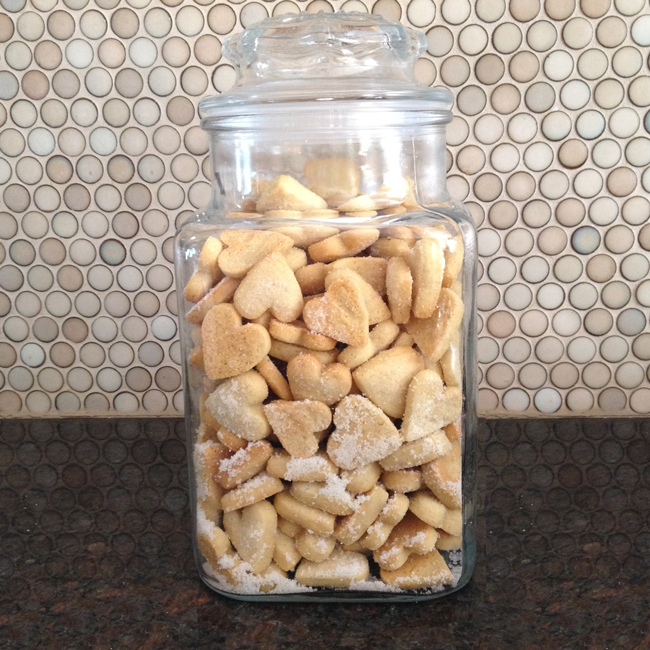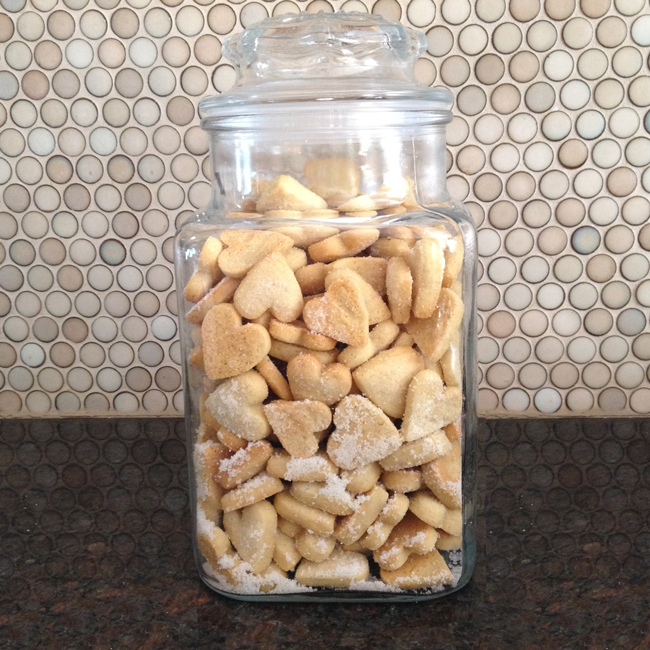 'Tis the holiday season and everyone who plans on making Christmas cookies (including me) is searching for cookie recipes that will impress. Sometimes it's about putting a twist on a good thing, and sometimes it's just about making a good thing better. You know, like amping up the special.
This recipe is not necessarily a twist on a classic. Rather a long pause — like making the dough on Wednesday and baking the cookies on Saturday. Or just a technical improvement — like rolling out the dough just after mixing, and letting it refrigerate in a thin sheet, which makes it easier to cut and helps keeps their shape.  What you will get is vanilla-packed flavor with easy cookie-cutter precision.
The trick to these rolled sugar cookies is to barely mix the dough to prevent spreading (no fluffing the butter and sugar!). Also, you will make your own vanilla sugar for coating the cookies and refrigerate the dough for a couple days so the vanilla bean aroma can thoroughly infuse the dough.

Triple Vanilla Sugar Cookies
1 cup sugar
1 cup butter (2 sticks), softened
1 teaspoon baking soda
2 eggs
2 vanilla beans
1 tablespoon vanilla extract
1 teaspoon almond extract
3 cups flour
1 additional cup sugar*
1 container with air-tight lid
[divider]
Blend butter and sugar until just mixed. On medium-low speed, mix butter and sugar until just combined, about 30 seconds.
Mix remaining ingredients. Carefully slit the vanilla beans and scrape the seeds into the mixing bowl, reserving the pods. Add the baking soda, eggs, vanilla extract and almond extract. Mix until just blended, about 3 minutes. Then, 1 cup at a time, add the flour until completely mixed.
Roll out dough and refrigerate up to 4 days. Line a baking sheet with parchment paper. Gather the dough into a ball and set onto a lightly floured surface. Using a floured rolling pin, roll out the dough 1/8- to 1/4-inch thick. Transfer dough to baking sheet, cover in plastic and store in refrigerator.
Make vanilla sugar. Pour about a cup of sugar into a jar or container. Add reserved vanilla beans. Seal and store until ready to use. (Shake periodically.)
*You can make colored sugar by adding a couple drops of food coloring. Or if you plan on frosting the cookies, use powdered sugar.
Preheat oven to 350° F then bake. Line another baking sheet with parchment paper. Use the cutter of your choice to make shapes. Transfer cookies to baking sheet and sprinkle with vanilla sugar. Bake for 10–12 minutes, until edges are light brown.
P.S. Make sure there isn't anything strong-smelling in the fridge, like bowls of chopped onions.
Makes about 3 dozen standard-size cookies, or 8 dozen mini cookies.
[divider]
[fblike][fbshare][twitter source="EatGoodAtHome"][twitter_follow username="EatGoodAtHome"]