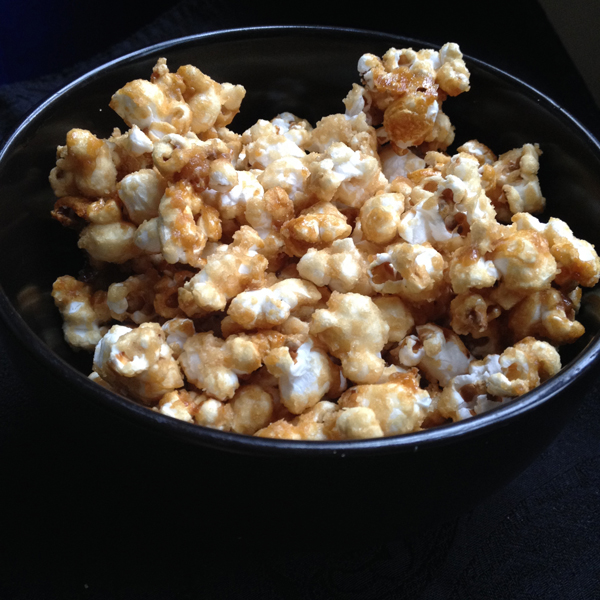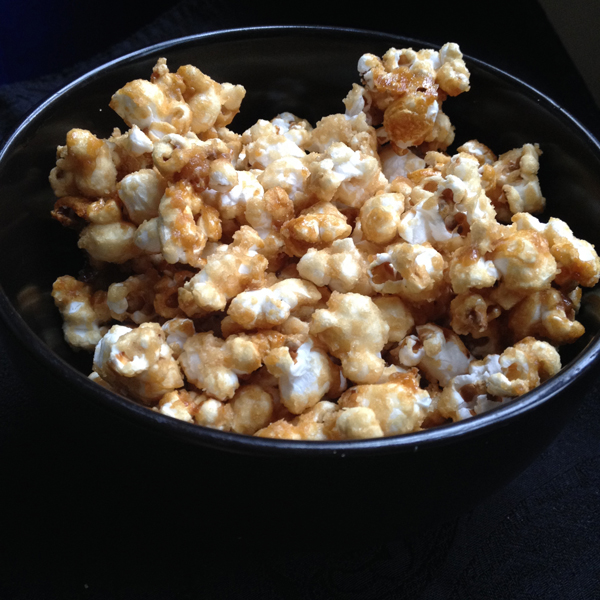 With Halloween around the corner, it's time for one of my favorite traditions: Horror Movie Night, which is never complete without caramel corn and boozy apple cider or mulled wine.
The first time I made caramel corn, it was from a recipe we got in Home Ec, "Microwave Caramel Corn". So this is where the tradition began. Middle school-aged children instructed how to nuke brown and white sugar, butter and corn syrup for 2 minutes, then stir in vanilla and baking soda. Put popped popcorn in a brown grocery bag and pour caramel over it, shake and nuke for another minute. Take the bag out, shake, and nuke again for 30 seconds. Voilà! Not bad for an 8th grader, but the end result was never quite crunchy enough. Very tasty, though.
We upgrading to making the caramel on the stove by high school, but still enjoyed the process of microwaving a brown paper bag filled with caramel and popcorn. It was fun to shake, after all. But really the only way to get a crispy crunchy final result is to bake the caramel corn after coating it. You have to be really careful to stir and not leave it in the oven too long, or else the sugar will burn and you will have unedible burnt caramel corn on your hands (a tragedy of epic proportions).
This caramel corn makes enough for two full bowls. While you probably shouldn't eat it all yourself (it is very hard to stop once you start), it is equally hard to share one bowl between four or more people.

Caramel Corn
2-1/2 quarts popped popcorn (3/4 cup kernels)
3/4 cup brown sugar
3/4 cup white sugar
1/2 cup light corn syrup
1/2 teaspoon salt
1 stick butter
2 teaspoons vanilla
1/2 teaspoons baking soda
Optional: Splash of bourbon or whiskey
Optional: 1 vanilla bean
Pop the popcorn. Place a large lidded pan on a burner over medium-high heat. Add enough popcorn kernels to make one layer and enough oil to lightly coat all the kernels. Do not crowd the kernels, you may need to make two or three batches. Shake the pan lightly when the kernels begin popping, and keep over heat until the popping slows down to every couple seconds or so. Empty popcorn into a paper bag.
Preheat oven and make caramel. Set oven racks to upper and lower thirds and preheat the oven to 250° F.
In a small saucepan, combine brown sugar, white sugar, corn syrup, salt and butter. Turn burner on to medium heat and stir, breaking up the butter. Continue stirring and cooking for about 5 minutes, scraping the sides as you go. Shortly after all the butter is melted and blended in, the caramel will start foaming and getting fluffy. This is when you want to remove the pan from heat and stir in vanilla and baking soda. (The caramel may sputter when you add the vanilla so be careful to avoid a burn.) For extra flavor depth, add a splash of bourbon or whiskey, and stir to cook off the alcohol. You can also scrape some real vanilla bean into the caramel.
Coat the popcorn with the caramel. Pour the caramel evenly over the popcorn. Close the paper bag and shake. For super even coating, microwave the bag 2 to 3 times for about 60 seconds each, shaking between so the caramel warms up and coats the popcorn evenly.
Bake. Line two rimmed baking sheets with parchment paper. Empty the mixing bowl of caramel corn equally between the two sheets in even layers. Bake for 30 to 45 minutes, stirring once, until the caramel corn is crunchy. Remove pans from oven to let cool. Break apart, transfer to bowls and enjoy!
[fblike][fbshare][twitter][twitter_follow username="eatgoodathome"]