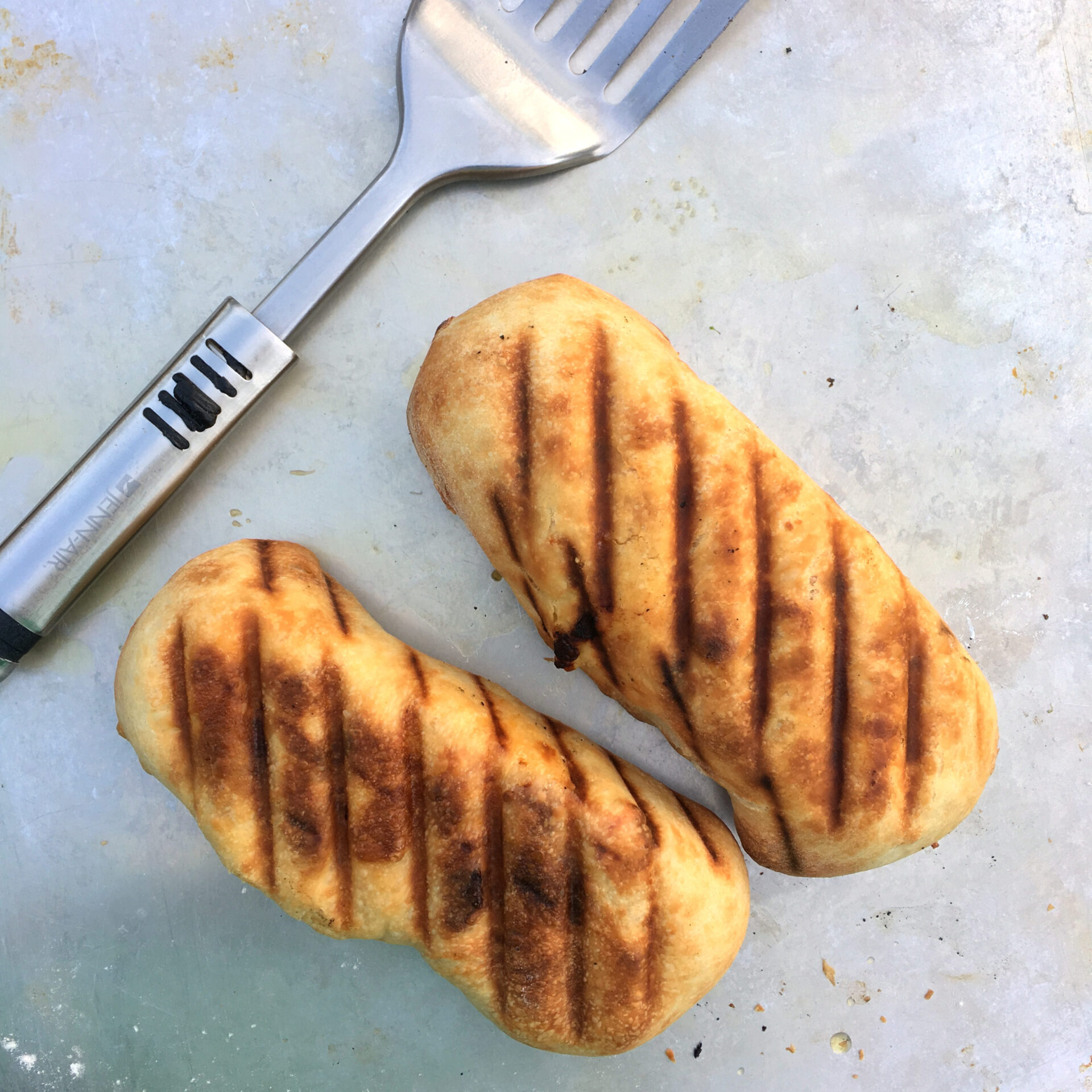 There is something about food being called "garbage" that piques one's curiosity. Well, it's quite simple. Garbage bread is like a pizza burrito. Fill it with whatever you'd like, roll it up, then bake or grill it for a SUPER family-friendly dinner. Slice in half, dip in marinara or pesto and enjoy!
Vegetable Garbage Bread
1 ball pizza dough (about 12 ounces)
4 ounces cheese, such as shredded mozzarella
½ cup thinly sliced zucchini*
½ cup carrot, grated or chopped
½ cup broccoli, chopped
1 small shallot, minced
Olive oil
Optional: Parmesan cheese and basil, for garnish
Optional: Marinara sauce and pesto, for dipping

Preheat. Set a pizza stone or baking sheet on your grill or oven, and preheat to the highest setting.
Prep dough. Lightly flour a work surface. Divide the dough into two balls. Set the dough balls on the flour. Dust the tops with flour and cover with plastic. Let rest for about 15 minutes.
Prep filling. Trim the zucchini ends then slice thinly. Peel and grate or chop the carrot. Chop the broccoli finely. Mince the shallot. Grate the cheese.
Assemble. Stretch or roll the dough into two rectangles, each about the size of a sheet of paper, as thin as you can get them. Sprinkle the dough rectangles with mozzarella. Layer on the zucchini, carrots, broccoli and shallot. Roll into logs, tuck the ends under and brush with olive oil.
Bake.
OVEN: Turn the oven down to 425 degrees and bake until a crust forms, about 15 minutes. (When you can hear or see the cheese bubbling, that's a good indication it's done.)
GRILL: Place the garbage bread directly on the hot grill or a preheated pizza stone. Cook on each side for about 5 minutes or until toasted on all sides. If the outsides cook too quickly, turn the heat down or grill the bread on indirect heat until it's completely cooked.
Serve. Cool for 10 minutes. Warm up the pesto and marinara sauce. Slice the logs in half, dust with parmesan cheese and basil and serve with marinara sauce and pesto.
*You can easily customize the fillings with your family's favorites. Feel free to replace the veggies with 3/4 cup chopped pepperoni and 4 additional ounces of cheese (or to taste).
[fblike][fbshare][twitter][twitter_follow username="eatgoodathome"]