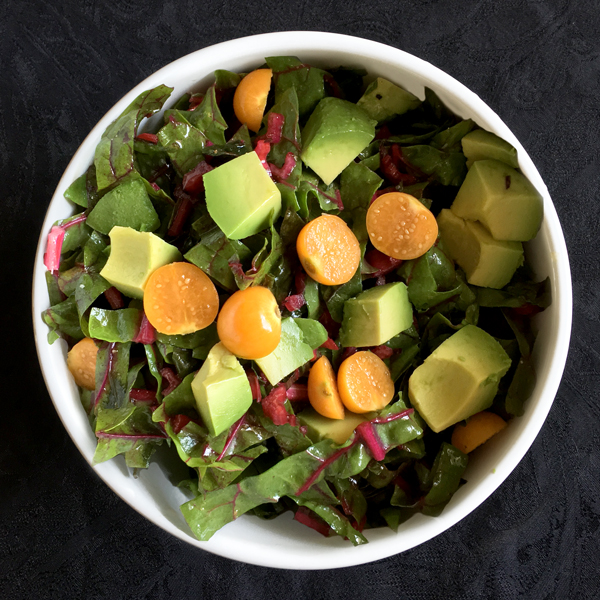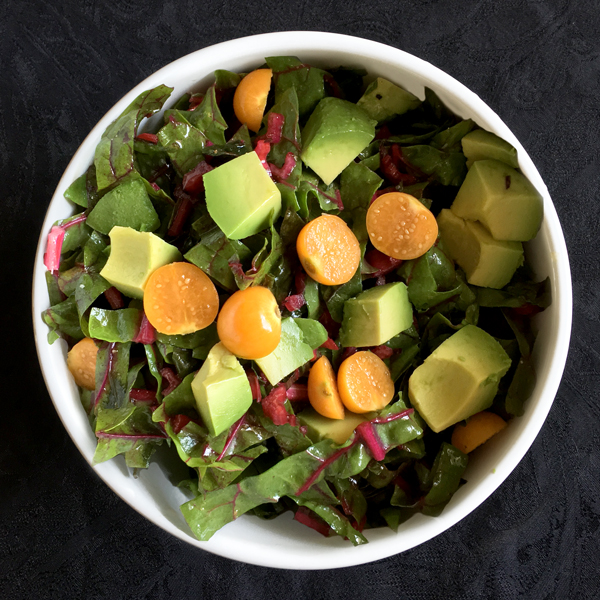 OK, let's get one thing straight, I have no idea what to call this salad. For me, dishes with cumin, lime and avocados just make me think of Ecuador or Argentina. The point is that the flavors play really nice with the gooseberries. The greens could be anything, literally — but a pinch of cumin and a squeeze of lime can transform the ordinary into the extraordinary, and they really bring gooseberries to life.
So when you see those tart, tangy little grape/tomato-looking balls of happiness in the farmer's market or grocery store in late June/early July, you may wonder what the heck to do with them. They are full-flavored pops of drama, and this salad is the perfect stage.

Summer Salad with Gooseberries
1 bunch red chard
1 avocado
1 lime
1 pint gooseberries
1 teaspoon cumin
2 tablespoons olive oil
Salt and black pepper
Optional: 1/4 cup cotija cheese

Prep chard. Wash and thinly slice the chard by stacking the leaves, making lengthwise slits, then slicing every half inch down to the stalk. Add to large salad bowl.
Prep avocado. Cut the avocado in half and remove the pit. Make crosswise slices, then push against skin to release the chunks in a bowl. Slice the lime in half and juice over the avocado then toss to coat. This will help prevent the avocado from turning brown.
Prep gooseberries. Wash the gooseberries; remove any leaves or stems. Slice the gooseberries in half.
Finish salad. Combine the sliced chard, chopped avocado along with lime juice, and gooseberries in a salad bowl. Add enough olive oil to coat, the cumin, and season with salt and pepper. Toss to coat completely and serve. Optional: Sprinkle with cotija cheese before serving. The cotija is a nice salty topping, but can be difficult to find so omitting it is just fine
[fblike][fbshare][twitter][twitter_follow username="eatgoodathome"]