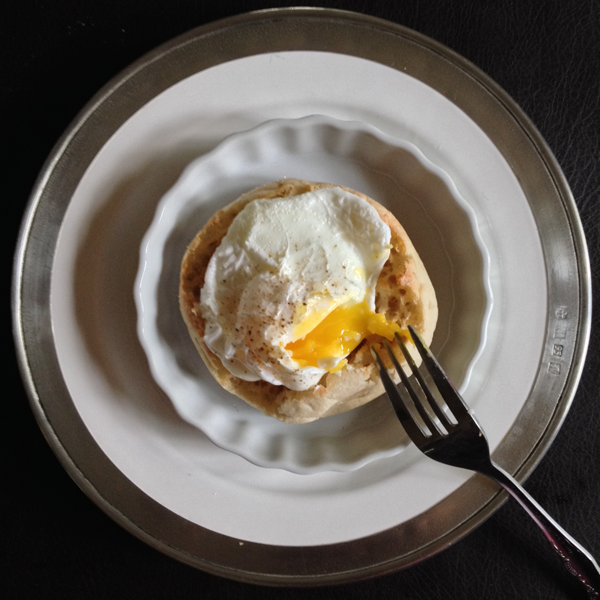 I've got a new obsession, and it is perfecting the soft-cooked egg. Recipes that are accompanied with pictures of bright sunny yolks beckon me… All varieties of dishes, topped off with soft-cooked eggs. You've got your noodle bowls, breakfasts, tagines, etc. They require a knack for timing. Too little time, and you have undercooked eggs with runny whites. Too long, and the yolk will harden. The goal is to get the whites cooked but the silky yolk to spill out golden decadence when you break into it.
This is the number one trick I've learned: use the timer. A loud one.
I wasn't raised with soft-cooked eggs. In fact, I only ate scrambled eggs up until a couple years ago. I was so picky that as a youth, I only ate scrambled eggs prepared by my Tata or Baba! (Much to the irritation of every adult who ever served me eggs.) Though, that is another story. It is only recently I delved into soft-cooked eggs.
I am coming to realize soft-cooked eggs all serve different purposes. Soft-boiled eggs are great, but kind of tricky to get the shell peeled off quickly. So they are best when presentation is important. But for meals where the goal is to smash the egg into the rest of the dish, the poached egg is the better bet. They are quicker to the finish line. Soft-baked eggs are best when you need a little more time to get everything else ready, and they are wonderful for dipping toast (or, ahem, toasted brioche). Same with the sunny-side up egg. You want something pretty on the plate to dip toast in.
Fresh eggs are important, too. Really, nothing beats a farm-fresh eggs. I love when they are all different colors, from different chicken breeds. With a fresh egg, you are going to have a sunnier yolk and a firmer white. Not to mention the shell. I find "cheap" eggs tend to have flimsy shells (which really weirds me out). For me, eggs are one food where I will gladly pony up an extra $1.50 to support hens who are cared for.
[twocol_one]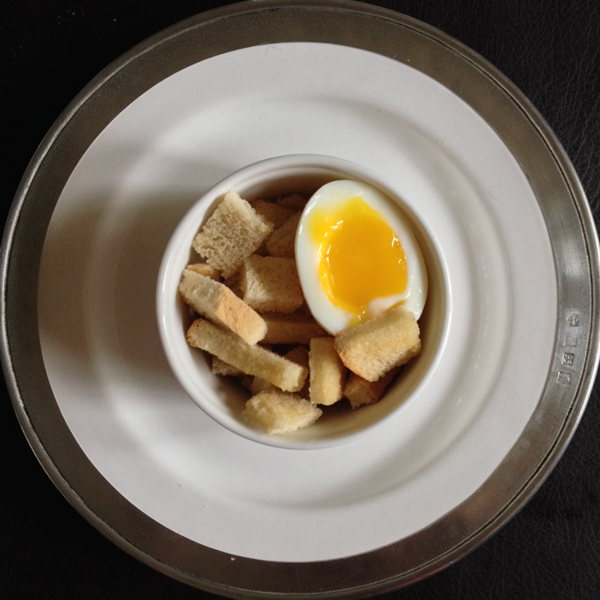 Soft-Boiled Eggs
Goal: Perfectly shaped egg, runny yolk
Bring a pot of water to a rolling boil. Have a bowl with ice water ready to go (important!). Prick the wide base of the
shell with a tack,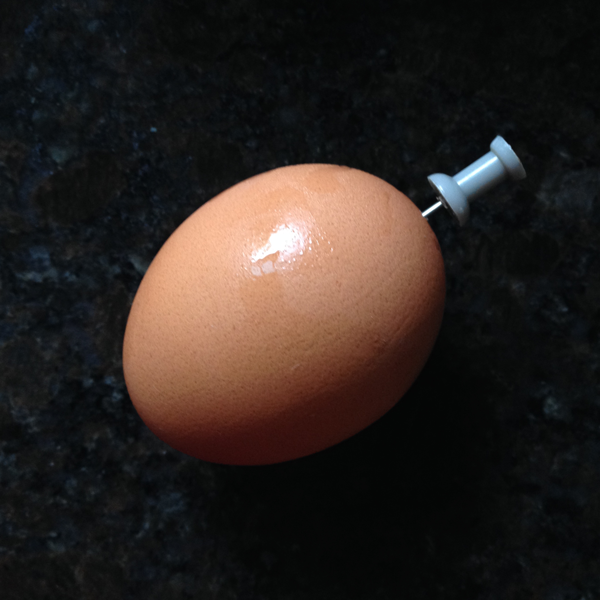 this will release pressure and also make a nice finished shape without an air bubble. Using a pasta scoop or ladle,
gently place eggs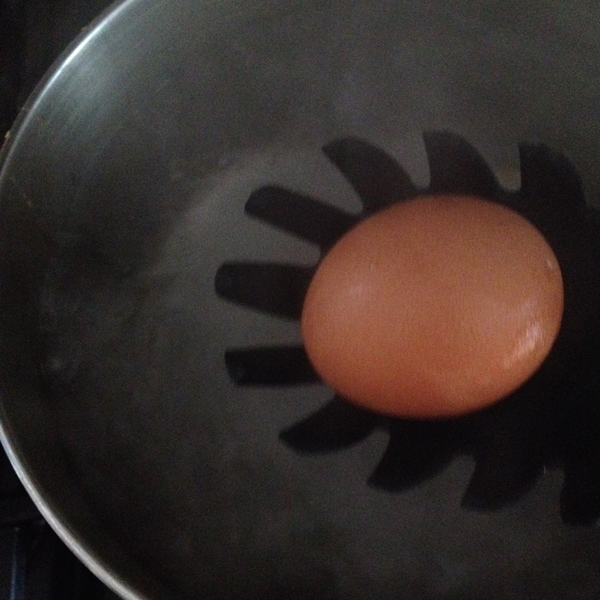 in pot of boiling water. Boil for exactly 6 minutes. Remove from pot and set in an
ice bath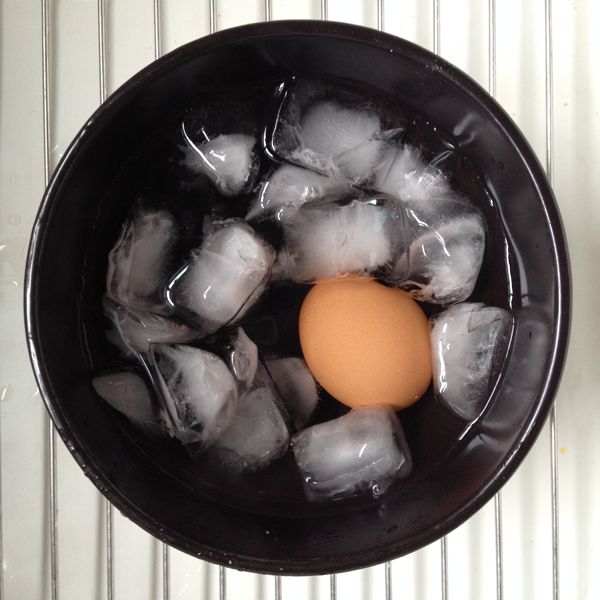 for a minute. Begin tapping the egg gently on the
top or bottom first
(important!). If you start on the side, the egg could break in half. Remember, you have a delicate thing in there. Tap, tap, tap all the way around until the
shell fragmented in tiny pieces
. Now you should be able to remove the shell fairly easily, as it will be loosened from the egg. It should come off in a couple strips.
[/twocol_one]
[twocol_one_last]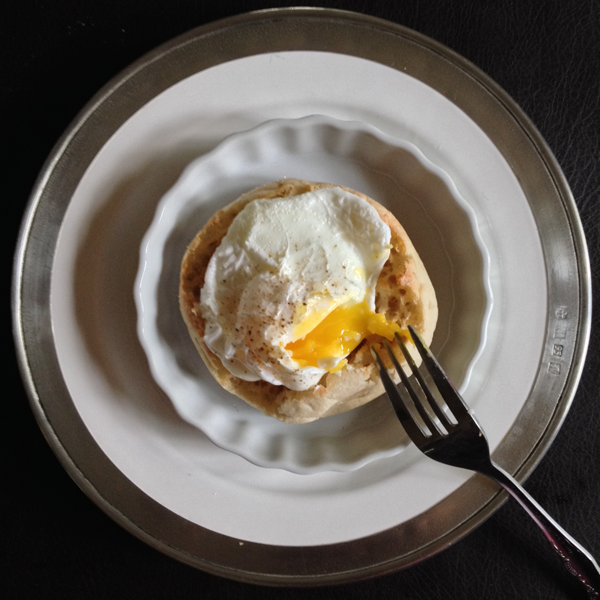 Poached Eggs
Goal: Smooth, coagulated whites (not drifting in the water), runny yolk
Poached eggs are great when the egg doesn't need to look perfect (i.e. covered with sauce, smashed into the food, etc.). Get wide non-stick pan with 1-1/2 inches of water simmering with 2 teaspoons white vinegar. The pan can be filled almost all the way to the top, the egg needs to be completely submerged in water after you drop it in. Crack eggs into small bowls on the side. The water is ready when tiny bubbles cover the surface of the pan. Swipe away the small bubbles in the pan (important!) right before placing your eggs in the pan. If you don't, your poached egg will have little indents all over,
like this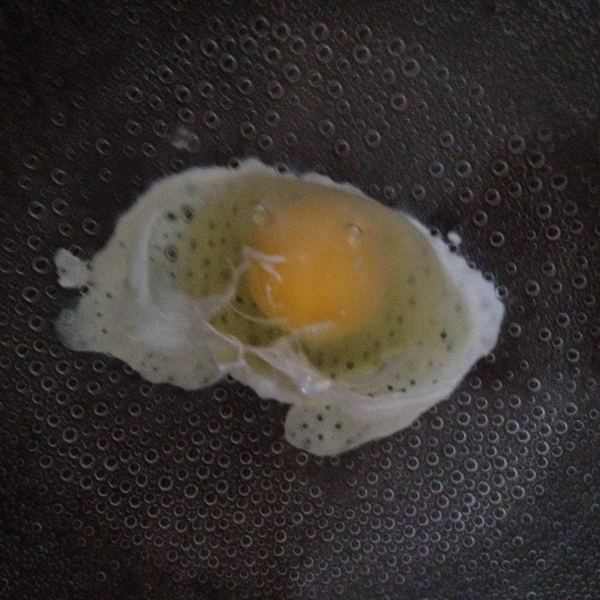 . Carefully lower each egg into the water, so the
whites stay with the yolk.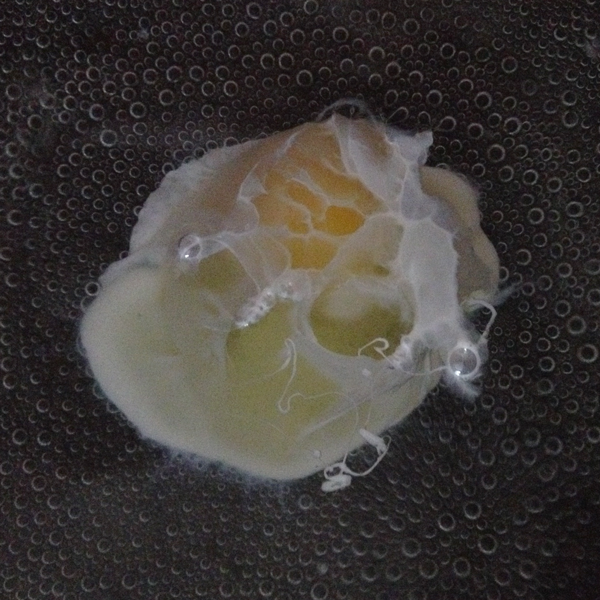 You don't want the egg to spread. Simmer for exactly 5 minutes. Remove with a slotted spoon. Trim off any floaty whites, for a prettier appearance.
[/twocol_one_last]
[twocol_one]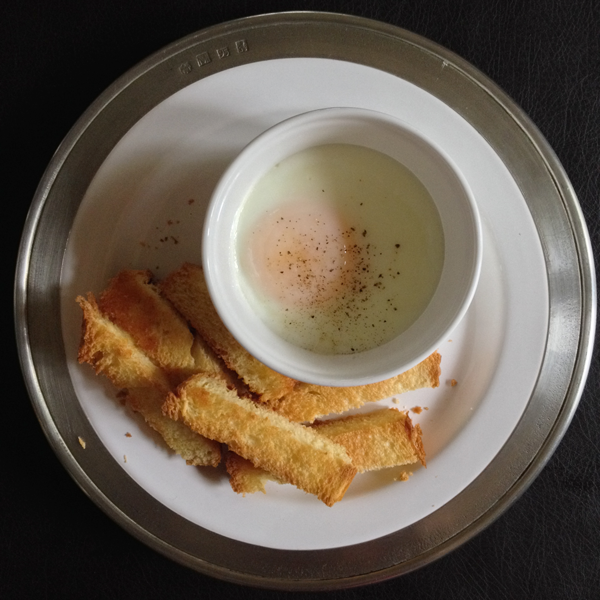 Soft-Baked Eggs
Goal: Whites set, runny yolk
Preheat an oven or toaster oven to 375°. If you are making soft-baked eggs by themselves, ready ramekins by buttering them and setting them onto a baking sheet. You can also cook them in a
water bath,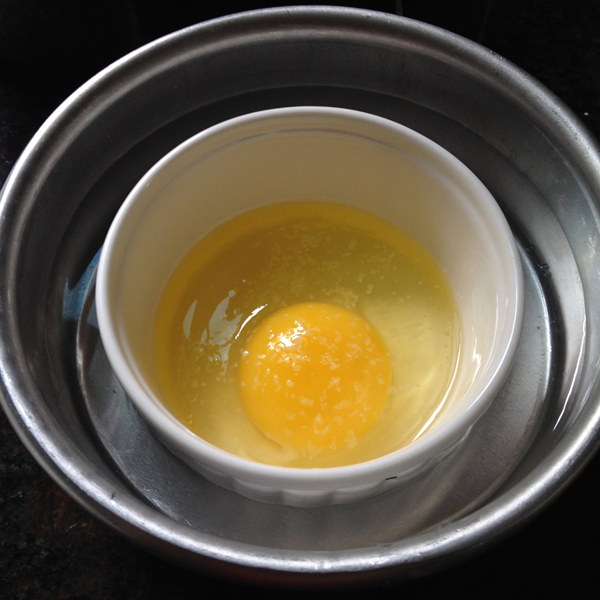 using cake or baking dish. With the water bath method, fill the dish partially with hot water (be careful so water doesn't get in the ramekins). If the soft-baked eggs are going into another prepared food, make little holes for the egg to settle into. Crack your eggs into the ramekins or dish and bake for 12-15 minutes. Keep a close eye, as you may need to adjust the time.
[/twocol_one]
[twocol_one_last]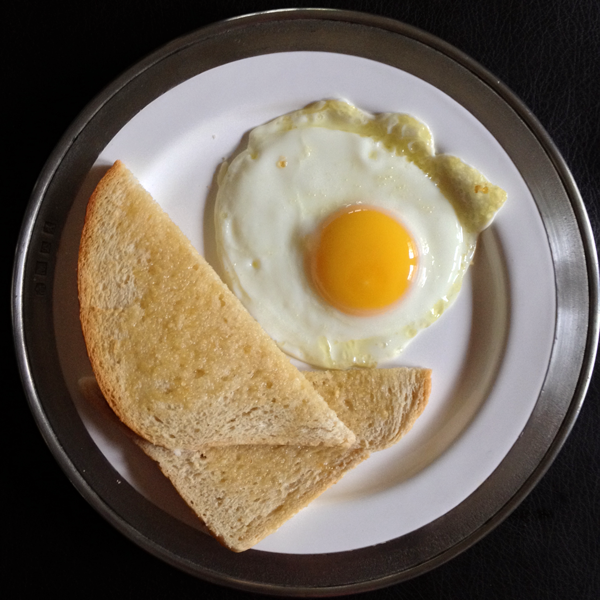 Sunny-side Up Eggs
Goal: Whites set, no brown edges, runny yolk
Heat a thin layer of oil in a non-stick pan over medium heat. We are going for a slow cook, so make sure neither the pan nor the oil get smoking hot. Add the eggs to the pan, with enough space so the eggs don't run into each other. Begin to spoon oil over the whites only. After a minute or two, when the whites aren't jiggly or clear, spoon oil over the yolks just to set the top surface. Slide the eggs out of the pan onto a paper towel then, using a spatula, transfer them to a plate.
[/twocol_one_last]
[hr]
For a thorough guide to the hard-boiled egg, we found a great post from Olivia at MyKingCook.com.
[hr]