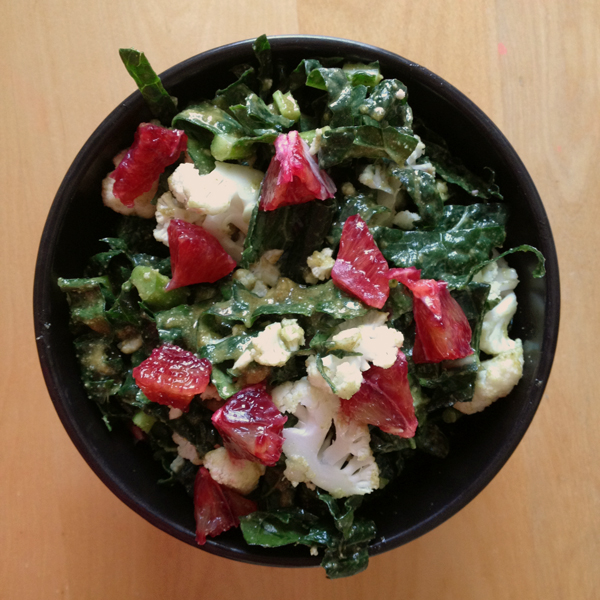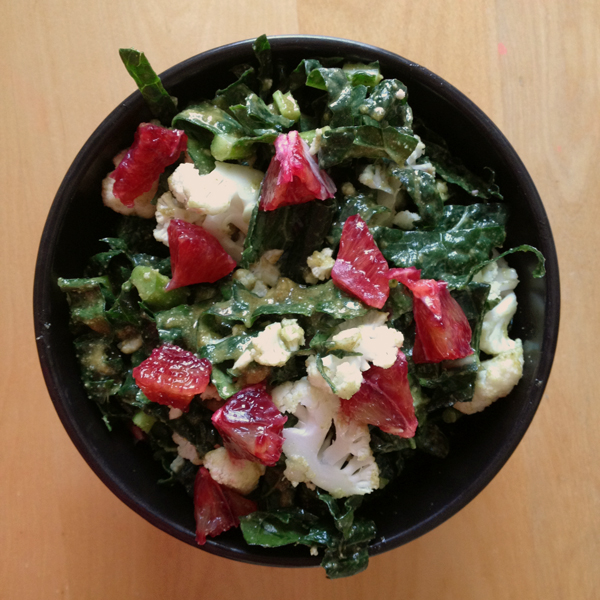 Now that I'm in the food business, I realize that many a'chef-recipe likely arises from trying to use up remnant ingredients. Such is the case with this salad. I had a small container of puréed pepitas in the fridge since the fall and I wanted my shelf space back. Even though making the pepita purée is very easy, I believe that almond or cashew butter blended with a little extra salt and olive oil would be just as tasty. Maybe even peanut butter, as long as it is all-natural and unsweetened.
This salad is fantastic! I am not, by nature, the type of person that goes bonkers for a kale salad, but this was really good! The creamy purée tempered the bitter greens and crunchy cauliflower, and the citrus gave bright pops of sweetness.
Makes 2 servings
Winter Kale Salad with Citrus, Cauliflower, and Pepito Purée
Pepita Purée*
1/2 cup raw pepitas (pumpkin seeds)
1/4 cup olive oil
Salt
1 bunch kale
2 big florets cauliflower
1 cup citrus fruit, such blood or mandarin oranges
*If you don't want to make pepita purée, substitute with almond or cashew butter, thinned with olive oil and lightly salted.
[divider]
Roast the pepitas. Preheat the oven to 375°. Spread the pumpkin seeds in a pie plate or baking dish. Bake the pumpkin seeds for 8-10 minutes, stirring once, until lightly browned and crisp; let cool completely.
Make the pepita purée. Transfer the roasted pumpkin seeds to a mini food processor. Add the olive oil and pulse until the seeds are ground to a paste. Season with salt.
Prepare the salad ingredients. Stack the kale leaves and cut them into chiffondae (thin strips crosswise). Slice the cauliflower into small bite-size pieces. If you have a small citrus, just peel and break apart the pieces. For a larger one, cut into quarters then remove the outer peel with a knife, careful not to remove too much fruit. Cut into bite-size pieces.
Mix it all together. Combine the kale and cauliflower in a mixing bowl. Pour the pepita purée over it and mix until all the vegetables are evenly coated. Top with citrus and serve.
[divider]
[fblike][fbshare][twitter source="EatGoodAtHome"][twitter_follow username="EatGoodAtHome"]