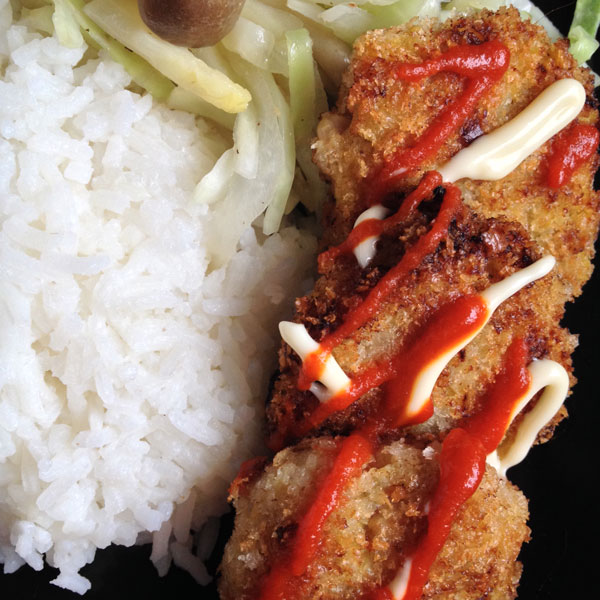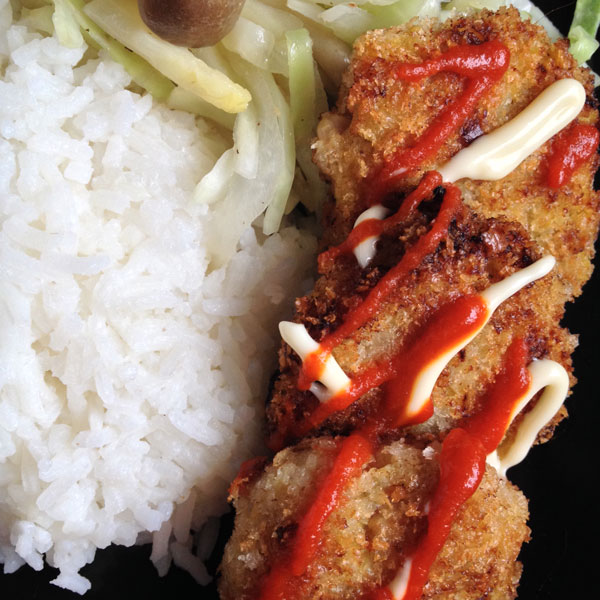 I used to love my CSA box — that is, until I had children. Babies and toddlers are time vampires and barely eat anything, let alone a heap of vegetables, so it didn't make sense to continue my subscription of getting farm-fresh boxes of vegetables regularly. But I do remember the years… Especially when I got loads of fall goodies, like pumpkin and squash.
I found this recipe for Fried Pumpkin and Pork (Bí Đỏ Chiên Thịt) on the VietnameseFood: Cuisine & Attractions website. From my days of living off Eat Street and eating Vietnamese food regularly, I never came across this on a menu. Or maybe I just never noticed, because I was too obsessed with bún bò noodle salads. But the site said fried pumpkin is extremely popular in Vietnam, and any time a native calls out how popular a dish is, I'm game to try it. (If it's good for 89 million, it must be pretty good!) I'm happy to report that it IS that good!
There is something perfect about this food that is hard to describe. The sweetness of the squash and tang of onion, the richness of pork — all bound up in a little crunchy nugget. With chili sauce and mayo on top, it's umami. A super quick sauté of cabbage and mushrooms on the side, along with white rice, make this an excellent meal for the cold weather blues.
FYI: There are plenty of versions of this recipe without the pork, so go 100% veggie if you prefer.
So this recipe is for all you CSA holders out there, just trying to find ONE MORE squash recipe to burn through that box! The only "special" ingredients in this recipe are the panko and fish sauce, otherwise this is standard pantry material. If you don't have fish sauce, use soy sauce instead. The sriracha chili sauce and mayo make this great, so don't skip them.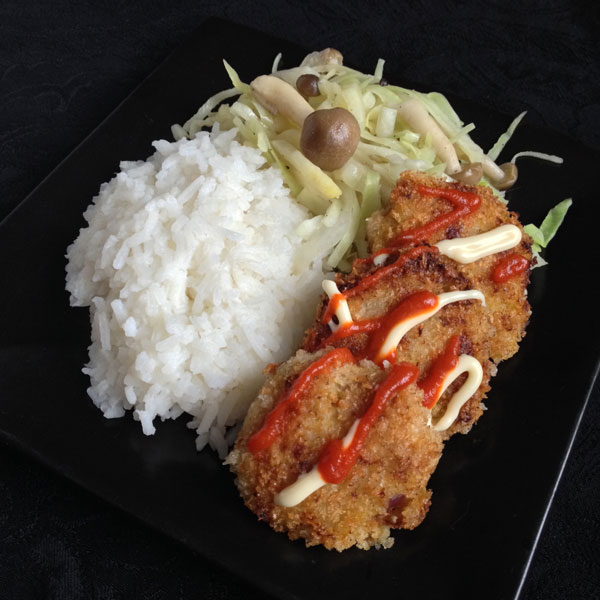 While start to finish is under 45 minutes, this recipe does dirty a lot of dishes. Be prepared.
Vietnamese Fried Pumpkin and Pork
Fried Pumpkin with Ground Pork
1 pound pumpkin or squash (about 2 small acorn squash, for instance)
1 small red onion
1 clove garlic
1 tablespoon fish sauce
¼ teaspoon black pepper
1 tablespoon flour
½ pound ground pork
1½ cups panko
¼ cup vegetable oil
Stir-Fried Cabbage and Mushrooms
1¼ pounds cabbage (half a small head)
1 cup mushrooms
1 tablespoon oil
Salt, black pepper and a pinch of sugar, to taste
Splash of fish sauce or soy sauce, optional
Rice
1 cup jasmine rice
2 cups water
½ teaspoon salt
Mayonnaise, for serving
Chili sauce, for serving
[divider]
1. Prep ingredients.
> Pumpkin or squash > Cut in half, scoop out seeds with a spoon and trim off ends. Peel the pumpkin and slice into 1/2-inch pieces.
> Cabbage > Cut out the core, then shred crosswise into thin slices.
> Mushrooms > Wash and trim off stems.
2. Steam the pumpkin. Bring about 3 inches of water to boil in a medium pan with a steam rack set inside. Add to steam rack, reduce heat to medium high, cover and steam until the pumpkin is fork-tender, about 15 minutes.
3. Cook the rice. Combine the rice, water and salt in a small saucepan and set over a small burner on high heat. Bring to a boil, then partially cover and reduce heat to low. Simmer for 15 minutes, or until the rice is done. Fluff with fork, remove from heat and cover.
4. Mix the pumpkin and pork. Combine the cooked pumpkin, red onion, garlic, fish sauce, black pepper, and flour in a blender or food processor. Process into a purée. Transfer to mixing bowl and add in the ground pork. Mix with a wooden spoon until well combined.
5. Bread the pumpkin mix. (You can begin warming the oil, as directed in Step 6, now.) In wide mixing bowl or plate, dump the panko. Doing a couple at a time, shape pieces of the pumpkin mix into 2-inch balls. Place them in the panko, roll around, then flatten into disks. Transfer to plate and continue until all the mix is used up.
6. Fry the pumpkin. Heat a medium or large non-stick fry pan over medium high heat, add enough oil to coat the pan completely. When the oil is shimmering, add as many of the pumpkin disks will fit. Cook each side for about 3 minutes, gently pressing them down then flipping with a fork, until a crust forms and they are nicely browned. Transfer to paper towel-lined plate and continue with remaining pumpkin disks.
7. Stir fry the cabbage and mushrooms. Add a little oil to a wide sauté pan or wok and heat over medium-high heat. When the oil is hot, add the cabbage and mushrooms and cook until both are softened, about 5 minutes. Season with salt and pepper, and add a pinch of sugar. Toss to combine then set aside.
8. Serve. Scoop rice onto each plate along with a heaping pile of the stir-fried cabbage and mushrooms. Add some of the fried pumpkin and drizzle mayonnaise and chili sauce over top. Serve immediately.
[divider]
[fblike][fbshare][twitter source="EatGoodAtHome"][twitter_follow username="EatGoodAtHome"]