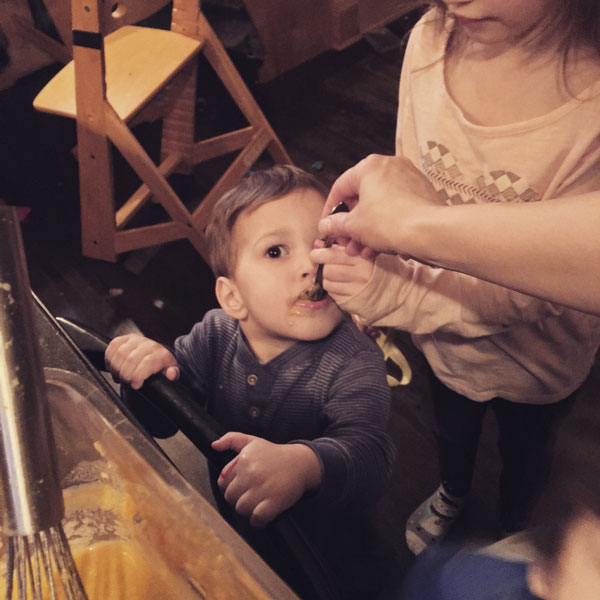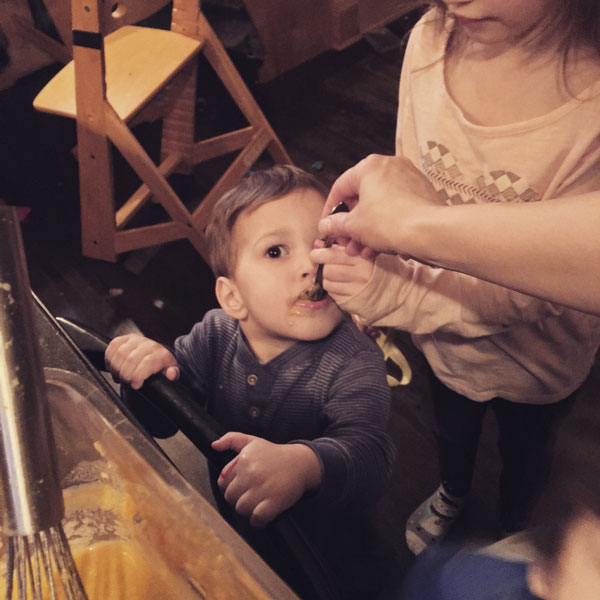 One of the side effects of owning a food business is bringing home loads of excess ingredients, like five pounds of delicious, organic parsnips from Driftless Organics, and extra spice mixes from Indian dinners. One cannot waste these things! I set about to turn it into a soup and thought it was really yummy. But what surprised me most of all, was my kids going ga-ga over it. Even my young sons — who pretty much only get excited about hot dogs — were begging for more. I call that a five-star recipe.
This mild vegan soup gets sweetness from the apple, and brings parsnips to life with ginger, garlic, and spice mixes from chicken tikka masala and gajar matar. Some tomato and coconut milk round out the flavor with creaminess and acidity.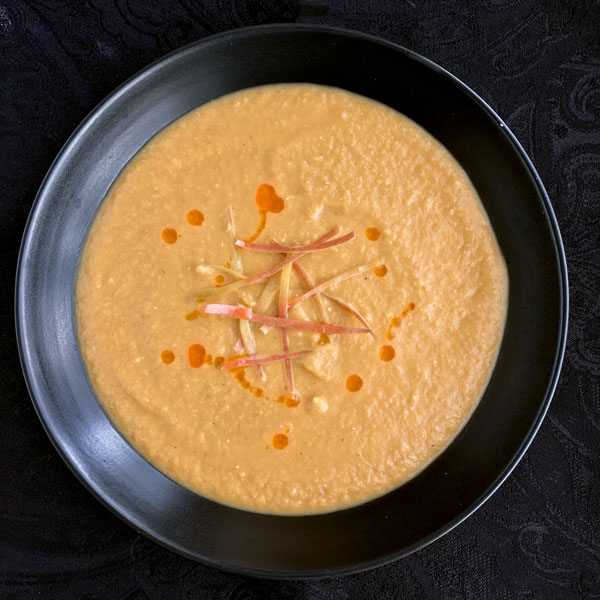 You can purchase the spices in the bulk section of most co-ops or organic grocery stores.
If you want a shortcut on the spices, substitute with 2 tablespoons of curry powder.
Indian-Spiced Parsnip Soup
with Apples and Coconut Milk
2 tablespoons olive oil
1 medium onion
1 tablespoon ginger, minced
1 teaspoon garlic, minced
2 pounds parsnips
1 small apple
3 teaspoons salt
Indian Spices (see below)
One 32-ounce vegetable broth
1 cup whole, peeled tomatoes (1/2 a 14-ounce can)
One 15-ounce can coconut milk
Extra water, as needed
Chile oil or red pepper flakes, for garnish
Indian Spices
1 bay leaf
2 teaspoons ground coriander
2 teaspoons paprika
2 teaspoons ground cumin
½ teaspoon chili powder
½ teaspoon turmeric
½ teaspoon garam masala
2 cardamom pods
[divider]
1. Prep ingredients. All the ingredients are going to be puréed, so they don't need to be perfect.
> Onion > Cut onion in half and trim the top off; remove skin. Rough chop.
> Ginger > Use a peeler or a spoon to scrape the skin off the ginger. Rough chop.
> Garlic > Place the garlic on the cutting board and lay your knife on top of it, broadside. With the heel of your hand, smash down onto the side of the knife, then remove skin.
> Parsnips > Peel the parsnips. Trim off the top, and coarsely chop the thick parts of the parsnips.
> Apples > Wash the apple and peel (julienne peels if you want to use them for garnish). Quarter lengthwise and remove the core.
2. Soften the vegetables. Heat the olive oil in a large saucepan over medium high heat. When hot, add the onions and cook for several minutes. Then add the ginger and garlic, cook for another couple of minutes. Add the parsnips and apple , continue cooking until the onions begin to brown and caramelize.
3. Make the soup. Stir in the salt and Indian spices, cook until fragrant, about 2 minutes. Pour in the broth, scrape the bottom of the pan to set any brown bits free, and add the tomatoes. The liquid level needs to be about 80-90% covering the vegetables, add water as needed. Cover, bring to a boil, then reduce heat to medium high and simmer for about 20 minutes, until the parsnips are tender.
4. Purée the soup. Discard the bay leaf and add the coconut milk. Working in batches, transfer the soup to a blender. Do not fill more than half full, to reduce risk of splatter. Hold the lid down with a towel, to avoid burns, and purée until smooth. Transfer to a large mixing bowl and continue with remaining soup. Mix in more hot water if it is too thick.
5. Serve. Ladle the soup into bowls. Garnish with apple peels, if desired, sprinkle with chile oil or pepper flakes, and serve.
COOK TIME: 45 minutes
[divider]
[fblike][fbshare][twitter source="EatGoodAtHome"][twitter_follow username="EatGoodAtHome"]