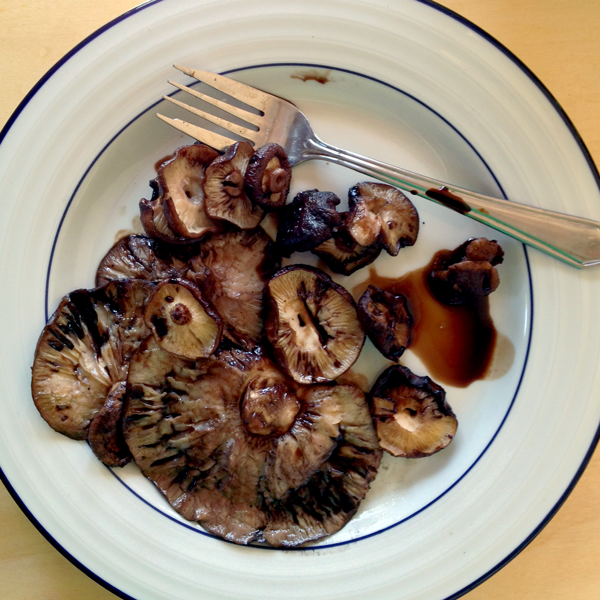 I stumbled across a beautiful bag of shiitakes for $5 on the University of Minnesota St. Paul campus, sold by a student from the mycological department. Since we were going to be grilling some steaks over the weekend, I thought it might serve us well to grab a bag. (They also sold some gorgeous red wine cap mushrooms, among other varieties.)
These marinated, grilled mushrooms were simple to prepare, and better than any steak sauce. Just pile them on top of your grilled goodies before taking a bite.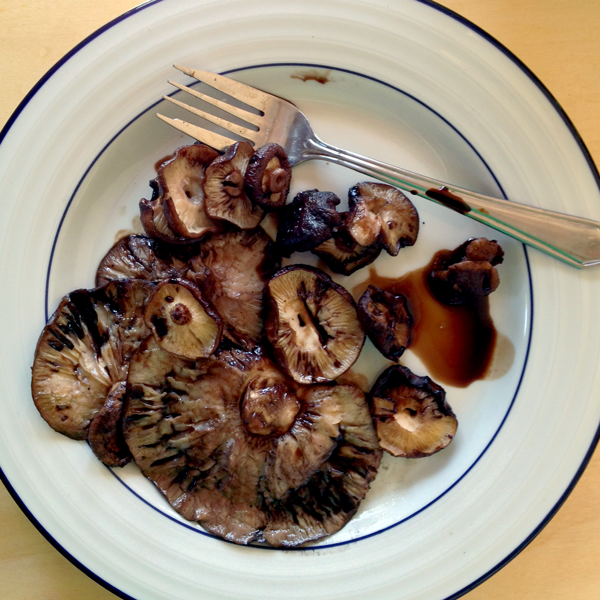 Grilled Red Wine-Balsamic Mushrooms
8 ounces shiitake mushrooms (or any with a wide cap like portobella or red wine cap)
2 tablespoons red wine vinegar
2 tablespoons olive oil
Salt & black pepper
1/2 – 1 cup balsamic vinegar
Marinate the mushrooms. Wash and pat dry the mushrooms. Trim off stems and set in a bowl. Splash in a couple tablespoons of red wine vinegar, a couple tablespoons of oil, and several shakes of salt and black pepper. Marinate until you are ready to use them (I marinated mine for a couple hours).
Make balsamic reduction. Set between a half to a whole cup of balsamic vinegar in a quart-sized saucepan. Simmer vigorously until the liquid is two-thirds reduced, or coats the back of a spoon. Set aside to cool.
Skewer the smaller mushrooms. Using kabob sticks, skewer smaller mushrooms through the middle so they are spaced evenly, every inch or half-inch or so. Set big mushrooms aside.
Grill the mushrooms. Over a medium-high flame, lay flat any large mushrooms that aren't at risk for falling through the grill, and set in place the mushroom skewers. Cook for about 10 minutes, turning them over every so often. Mushrooms are done when they are tender and juicy.
Serve. Set them on a platter and drizzle balsamic reduction on top. The balsamic reduction adds a nice note of sweetness to the complement the vinegar. Top burgers, steaks or eat them as is.
[fblike][fbshare][twitter][twitter_follow username="eatgoodathome"]