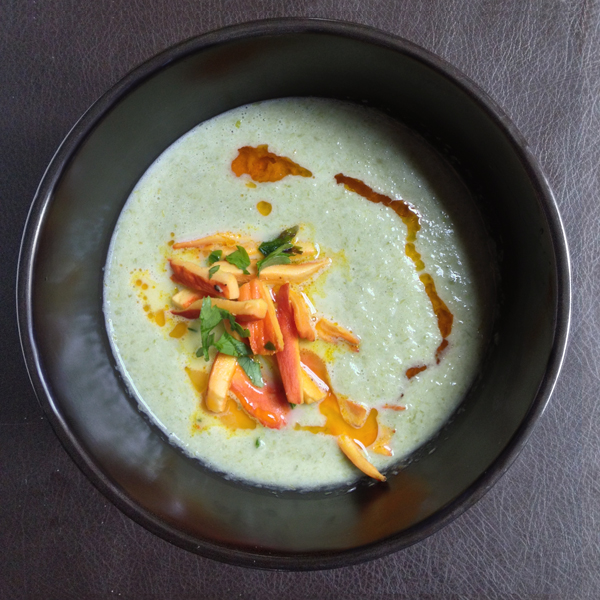 [twocol_one]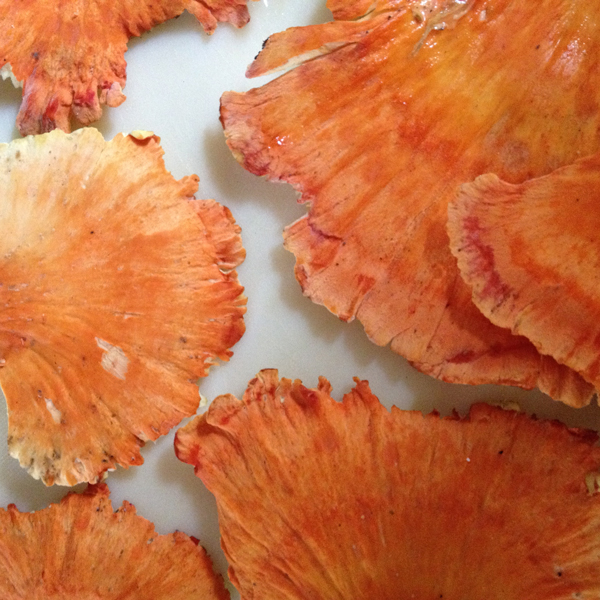 [/twocol_one] [twocol_one_last]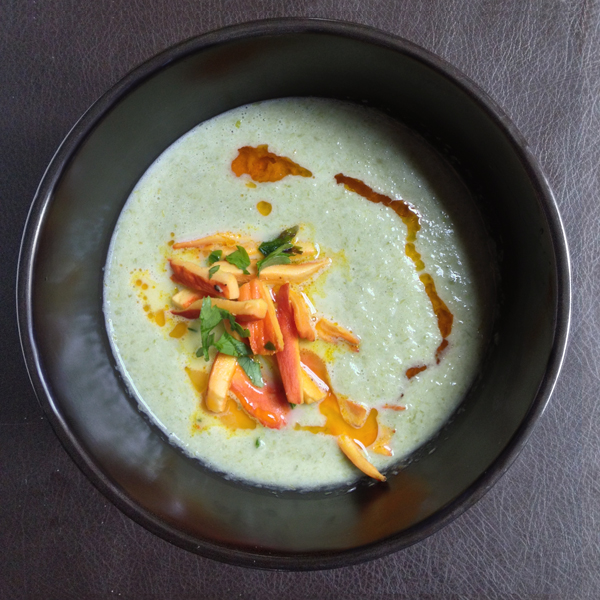 [/twocol_one_last]I think I can count myself lucky to have two friends now who go mushroom hunting. I have lifelong been a lover of mushrooms of every variety, but my this being the first time I was about to serve my family something not-purchased-at-the-grocery-store did give me pause, no doubt. I looked up the 'shroom. It said something about chicken of the woods perhaps causing gastro issues with some people, so I did not serve it to my children, just to be sure (I experienced nothing of the sort…only very happy tastebuds and a happy tummy).
That said, the Chicken of the Woods mushroom is an exotic variety of mushroom. 100% edible. It bears no resemblance to chicken itself, other than its taste. It has lobster-like coloring and emerges from rotting trees like Chihuly art. But it gets its name from the chicken-like or meaty flavor it imparts after cooking it.
I have learned that you should treat "alternative" ingredients just as you would primary. A mushroom is a mushroom, whether it be button, chanterelle, or chicken of the woods. An onion is an onion, whether it be leek, ramp, or scallion. Treating the ingredient simply allows you to appreciate its unique flavor. This soup was perfect. Combining mushrooms and onions is about as old as the Black Forest itself. Stock, wine, cream, butter and salt serve as the happy entourage.
Scallion Soup with Chicken of the Woods and Hot Chili Oil
Soup
3 tablespoons bacon drippings (or oil)
4 bunches of scallions (about 3/4 pounds), trimmed and rough chopped
3 cloves garlic or 1 teaspoon garlic powder
2 cups chicken broth
1/4 cup white wine
1-1/2 teaspoons salt
Freshly ground black pepper
1/2 cup cream
Hot chili oil for drizzling
Mushrooms
2 cups chicken of the woods mushrooms
3 tablespoons butter
2 tablespoons parsley, chopped
Water
Salt
Cook the soup. Heat the bacon grease in a soup pot over medium-high heat. Add the scallions and garlic, sweat for 5 minutes or so. The scallions should still be bright green, but tender. Add the broth, wine, salt, and pepper. Simmer for about 10 minutes, then purée. Mix in cream and stir, set aside.
Cook the mushrooms. Melt the butter in a small pan over medium heat. You are going to use the edging of the mushrooms, so trim the ruffles off about 1–2 inches in from the outside. Slice into 1/4-inch matchsticks and add to butter. Sauté about 5 minutes. Add some water to pan, if butter is absorbed and mushrooms aren't done. Stir in salt and parsley when close to finished cooking.
Serve. Ladle the soup into bowls. Add several scoops of mushrooms to each bowl. Top with some parsley and drizzle with oil. Serve.